Preparation for upper endoscopy (Upper digestive endoscopy or esophagogastroduodenoscopy) is a very important matter when performing this procedure because it depends on it not to take risks and to be able to see the inside of the digestive organs in the best way.
What is an upper gastrointestinal endoscopy?
An upper gastrointestinal endoscopy (or simply endoscopy) is an outpatient procedure in which the inside of the esophagus, stomach, and part of the duodenum are examined.
It is useful for diagnosing digestive symptoms such as bleeding, abdominal pain, heartburn, vomiting, nausea or difficulty swallowing.
Endoscopy allows diagnosing gastritis, ulcers or tumors and surveillance for Gastric Intestinal Metaplasia and Barret´s esophagus. It is also the best way to screening cancer of these organs
How is the digestive endoscopy done?
When you go to the procedure room, my assistant Catalina is going to channel a vein to administer the sedative that will put you to sleep. Don't worry, we're going to take care of you.
You are not going to feel anything. I'm going to pass an endoscope (a specialized 9 mm diameter piece of equipment) through your mouth. From there it enters the throat and then the esophagus, passing through the stomach to reach the small intestine.
During the procedure I carefully and systematically examine all the organs. In the stomach I always take a tissue sample (biopsy) to find out if there is gastritis or Helicobacter pylori bacteria.
The procedure lasts on average between 5 and 7 minutes, what is necessary to be able to take a good look at it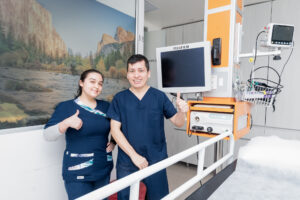 What happens after an Endoscopy?
Once the procedure is over, you will be taken to a recovery room. You will remain there until the effects of the sedation wear off, which can take between 5 and 15 minutes.
When you´re in perfect condition, you will be discharged together with your report.  The result of the biopsies will be in four business days and will be sent to you by mail or we will see them at the review appointment if I have previously seen it in consultation.
How is the preparation for upper endoscopy?
8-hour fast for solid foods:
An endoscopy requires that you have an empty stomach so that we can see the interior of your digestive system very well and so that you do not have the risk of food residues going into the bronchi (bronchial aspiration).
That is why in the preparation for endoscopy we recommend that you fast for solid foods for 8 hours. The procedures are performed in the morning so that the overnight fast is enough and you do not have to go hungry.
However, if the exam is in the middle of the morning or at noon, you can have an aromatic, coffee, clear juice or water four hours before the endoscopy.
You must be accompanied by an adult:
Most people have the procedure done under sedation so they don't like to feel anything. After they recover from this, they walk and talk without a problem, but for up to four hours some reflexes or the ability to concentrate can be diminished.
That is why it is necessary to come with a person who is in charge of taking you home to rest. Those who wish to take the exam without sedation do not need to be accompanied.
Do not drive or ride a motorcycle:
Due to decreased reflexes and responsiveness, coming driving a car or a motorcycle or being a motorcycle grill increases the probability of an accident, which compromises the safety not only of you and your companion but of everyone in route.
After sedation some people feel as if they had drunk liquor. If your companion does not know how to drive someone else take him home. As endoscopy is a scheduled procedure you have time to organize your logistics
Take your medications before the test:
If you take medications such as those used for high blood pressure or diabetes, take them before the exam with a sip of water. If you are diabetic and apply insulin, schedule the endoscopy as early as possible and apply only half the prescribed dose or leave it for after the exam to reduce the risk of hypoglycemia
Tell us about your health status:
There are conditions or illnesses that increase the risk of the exam or sedation. Therefore, if we have not seen you previously in consultation, tell us if you suffer from any delicate illness, if you have specific allergies, if you have had previous problems with sedation or anesthesia or if you take anticoagulant medications (for example warfarin or dabigatran) or antiaggregants (Clopidogrel or aspirin). If there are several medications you take, make a list of them so that you can show us.
If you have an acute respiratory infection reschedule the exam:
We are still in the era of the Coronavirus and all people, including me, are at risk even if we are vaccinated. So if you have a cold or cough or know you have the infection, leave the exam for another day.
Preparation for upper endoscopy in cases of intestinal metaplasia:
In case you have a diagnosis of atrophy or intestinal metaplasia of the stomach and the endoscopy is to monitor it, I recommend that you take a 600 Mcg N Acetylcysteine ​​sachet dissolved in a small glass of water two hours before the procedure.
This is so that you have less saliva in your stomach and allow me to visualize it better. If your endoscopy is diagnostic only this is also a good idea but not necessary.
Do you have the Colonoscopy the same day?:
For cases in which the upper digestive endoscopy and the total colonoscopy are scheduled, take the laxatives as we have recommended. Laxatives can be taken up to two hours before the start of the exams and this does not put your safety at risk. Read preparation for colonoscopy here
What can I eat in preparation for upper endoscopy?
The day before, you can eat what you normally consume and tolerate or what has been recommended for your state of health. In the event that the endoscopy is requested due to suspicion of achalasia, gastroparesis or if previous tests have found traces of food in the stomach, it is necessary that the day before you only consume liquid or blended food.
Other things in the preparation for upper endoscopy:
Endoscopy is only a diagnostic aid. By itself it does not make a diagnosis of a disease and that is why it is so important that it be checked by your treating doctor.
If I have requested it in the consultation, we will talk in detail about the exam and its biopsy at the review appointment. If not, take her to your treating doctor or request an appointment with me to help you solve your digestive problems.
Ask us if you have any concern arises regarding the Preparation for upper endoscopy or sedation, contact us on the phones 60 4 3223087 / 3207571313 or by WhatsApp at this link http://wa.me/573207571313
Learn more about my Endoscopy and Colonoscopy Center here http://endoscopyycolonoscopy.com
Cheers,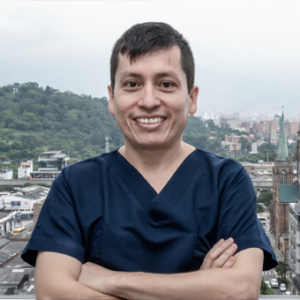 Mauricio González Hernández 
Your Gastroenterologist in Medellín