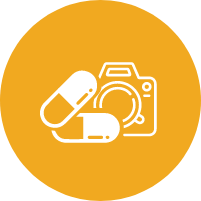 Endoscopic capsule colonoscopy
(colon video)
Endoscopic capsule colonoscopy is a non-invasive option to examine the colon for either prevention or diagnosis
What is the endoscopic capsule?
It is a high definition camera the size of a pill that when ingested by the person begins to take multiple photos, such as recording a video of the interior of the digestive tract (Colon, small intestine, stomach and esophagus). It is a non-invasive procedure without pain or discomfort, without sedation, without radiation, without tubes or hoses and very effective.
Learn more about Colonoscopy with Capsule by Clicking this link
When to take the exam?
If you need a total colonoscopy for your symptoms but you are afraid or afraid of this procedure due to the risks of the examination and sedation
They did the conventional colonoscopy but due to anatomical difficulties of their colon they could not make it complete. Endoscopic capsule colonoscopy is safer and more accurate than an enema colon or a CT colonoscopy
You need the Colonoscopy but they have diseases that make sedation or anesthesia risky
Non-invasive prevention of colon cancer or executive checkup
What does the exam consist of?
After taking the laxatives, the person ingests a disposable capsule which immediately begins to record and send the images to a tape recorder that they will have on a belt.
When the capsule has been ejected, which occurs naturally, the recorder is removed and the data is downloaded to a computer.
so that I can see the images and make a diagnosis and the recommendations of the case
You can schedule your appointment here: http://wa.me/573207571313
Endoscopy and colonoscopy center in Medellín, experts in the diagnosis and treatment of digestive diseases.
Colonoscopy in Medellín | Endoscopy in Medellín | Gastroenterologist at Medellín