Endoscopy or Colonoscopy and the coronavirus. They are very frequent concerns today.
I have never seen or faced such a challenge as this Coronavirus COVID 19 pandemic.
It is something that makes us nervous and crazy when we see what has happened in other countries and
knowing how fragile our health system is. This virus affects all areas and endoscopy or
Colonoscopy are not the exception. Today I want to share with you how the presence in the
world of this virus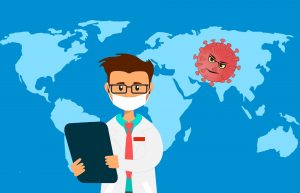 What we know so far about the Coronavirus COVID 19
✳️ The main form of transmission is through saliva drops and respiratory secretions.
✳️Most common symptoms of infection are cough, fever, or fatigue. However, there are also many patients
without symptoms.
✳️Between 5 and 50% of infected people may have nausea, vomiting, or diarrhea before the start of the
fever and cough
✳️ Genetic material of the virus has been found in the fecal matter of infected people, which is why
suspects that there is also Fecal – Oral transmission. So you have to wash your hands after entering the bathroom
✳️This virus can spread even without symptoms, in what we call the prodromal phase, which lasts
on average 5 days (0 to 14 days)
✳️People most likely to have severe disease are those over 60 years, especially if they have
underlying diseases such as diabetes, heart or kidney failure, cirrhosis, COPD, asthma or hypertension. They are also
in risk immunosuppressed patients such as infected with HIV and low levels of CD4, who take corticosteroids or use
biological therapies and those in cancer treatment
✳️We must take measures to prevent the transmission of the virus. The most important are to wash your hands, not
touching your face, not kissing or waving, avoiding meetings and protecting yourself when coughing. To prevent
spread of the virus, social distancing and staying home are key, especially if you are sick
How Coronavirus affects my Upper endoscopy or Colonoscopy
1. An endoscopy or colonoscopy are procedures in which there is a risk of transmission of the virus to the
patients, companions and health personnel. The risk is higher in upper digestive endoscopy because
even with sedation there is a higher probability that saliva sprays or respiratory secretions will be expelled
to the environment and there is also close contact between the patient and the health personnel. There are also those
who have cough after the procedure.
2. If you currently have a cough or an active respiratory infection (Think of it as just a flu), if you have been in
contact with people infected with Coronavirus or if you suspect you have the infection, schedule your endoscopy or
Colonoscopy for another date. It is not discrimination, it is an act of good will.
3. These days and while the acute phase of the pandemic passes, I advise you if you have an endoscopy or
colonoscopy it is not urgent (for example it will be done for surveillance or prevention) reschedule it until the
risky conditions improve. If due to your health conditions these procedures are necessary (Example: there is
bleeding, suspected cancer, has a foreign body in your digestive system, your symptoms do not improve or are
severe) can be performed without problem. In my Endoscopy and Colonoscopy Center as well as in other
institutions adopt the risk prevention measures recommended for this case. Keep in mind that it is likely that, due to
the current situation, the movement of people in the city ​​or non-urgent health services are closed for a few days
4. Fewer companions:
When you come to your procedure do it only with a companion who is under 60 years old and hopefully you do not
have no disease that puts you at risk. If you have to come with more people they should wait in the areas
common. The objective is not to congest the waiting room and thus be able to maintain the safety distance. This is
I say why it is common that for endoscopy or colonoscopy the patient comes with all the family and friends
to give you morale. That no more.
5. Our habits have changed.
We will call you the day before to ask if you have symptoms of respiratory infection or contact with people.
with confirmed diagnosis of coronavirus. Sometimes that bothers but it is necessary to guarantee the safety of
everyone. Unlike other times, your companion will not go to the recovery room or the endoscopy area.
Neither are we going to say hello or kiss or hug but that does not mean that we are not loved or that we do not
we want to help.
6. All with protection:
If you do not have symptoms of respiratory infection, you and your companion should come to our care center with
masks. As there are currently shortages we cannot give you a mask but if you do not have it you can
come with handmade face masks or something to cover your mouth.
7. Patience and understanding:
No one has ever experienced this and we are hardly adapting. The safest thing is that our mood is sensitive and
anything can obfuscate or alter us. We want to help you but with the idea of ​​reducing risks
some things are unusual and so I ask for your patience for more patience and understanding. If you see that
we can do something better tell us your idea and we will take it into account
We can't let ourselves go down
It is true that there is uncertainty and fear. We do not know until when all this continues. At some point
We will have to continue with normal life so that the risk is not completely eliminated. Already from a personal point
of view I know that God knows the situation and that he is going to show us his goodness. What we cannot do he can
do. We have to continue breathing and struggling but without forgetting that life is not just coronavirus.
"Success is not final, failure is not fatal, it is the courage to continue what counts"
Online consultation with your Gastroenterologist
If you need an appointment with your Gastroenterologist and do not want to leave home, schedule an Online
Consultation (Video Consultation) at this link http://wa.me/573207571313. In it we talk about everything he feels, as
if be with me in the office. If what worries you is that you do not examine it, I tell you that very rarely this
it changes what I plan to say or recommend to you. Like when all this happens, in the review appointment I will
complete the Physical exam. I also like the interaction of the consultation more, but this is a service option.
Another potential advantage is that if we solve problems at home we will avoid congesting the emergency services
that these days are focused on other things. Learn more about the online consultation Here:
https://endoscopiaycolonoscopia.com/consulta-en-linea-con-tu-gastroenterologo/
Schedule the appointment for Endoscopy / Colonoscopy / Consultation at http://wa.me/573207571313
or on the phone 3207571313. Learn more about my services at https://endoscopiaycolonoscopia.com
Cheers,
Mauricio González Hernández
Your Gastroenterologist in Medellín